What the Fontaine?!

WTF: 70s Glam, Post-Punk, & Guilty Pleasures

"What the Fontaine?!: You never know what you'll hear next on this fun mix of tunes from across the decades and musical genres."

Tonight 9-11 PM I'll bring you some 1970s glam, some post-punk and a few "guilty pleasures" (inspired by Sound Opinions today). Expect T. Rex, Roxy Music, Gary Glitter, plus Brian Eno, The Fall, Pop Group, Liquid Liquid, Killing Joke, and also Silicon Teens, Nick Gilder, Fancy, and Cheech & Chong. Should be fun!

Brian Eno: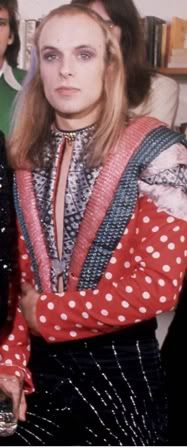 Twitter:http://twitter.com/WhatTheFontaine
Facebook:http://www.facebook.com/pages/Richmond-VA/What-the-Fontaine-on-WRIR-973-FM/273679064155
AIM: WhatTheFontaine Phone: 804.649.9737
Click here for today's podcast.
All podcasts:http://www.radio4all.net/index.php/contributor/3857
Click "Read More" for song list.

Meat Beat Manifesto – United Nations
Sau – I Had a Friend [tonight at Strange Matter]
Sau – Blind to It [tonight at Strange Matter]
GWAR – Saddam a Go-Go [played Wed. at The National]
1970s glam set:
T. Rex – Bang a Gong (Get it On)
New York Dolls – Stranded in the Jungle
Roxy Music – Editions of You
David Bowie – The Jean Genie
Gary Glitter – I Didn't Know I Loved You (Till I Saw You Rock and Roll)
Sweet – Ballroom Blitz
"guilty pleasures":
Silicon Teens – Judy in Disguise
Fancy – Wild Thing
Nick Gilder – Hot Child in the City
J. Geils Band – Funky Judge
Cheech & Chong – Earache my Eye
The Monkees – (I'm Not Your) Steppin' Stone
moving into post-punk…
Brain Eno – Sky Saw
Orchestral Manoeuvres in the Dark – This is Helena
The Pop Group – We Are All Prostitutes
The Fall – Totally Wired
The Flying Lizards – TV
M – Pop Muzik
Public Image Limited – Annalisa
Killing Joke – Tension
Pere Ubu – Street Waves
Gary Numan – Metal
Devo – Satisfaction [at The National July 30th!]
Executive Slacks – 30 Years
Liquid Liquid – Push
Cabaret Voltaire – Obsession
The Stick Men – Jampire

Playlist temporarily unavailable.