What the Fontaine?!

WTF: Grand Illumination and R.I.P. Peter Christopherson

"What the Fontaine?!: You never know what you'll hear next on this fun mix of tunes from across the decades and musical genres."

Tonight is Richmond's Grand Illumination, when all the reindeer and buildings get ceremonially lit up in Shockoe Slip. So I'll see if I can slip in a few early Christmas tunes. Plus I'll pay homage to Peter Christopherson of Throbbing Gristle, Psychic TV, and Coil. He passed away in his sleep last week at age 55.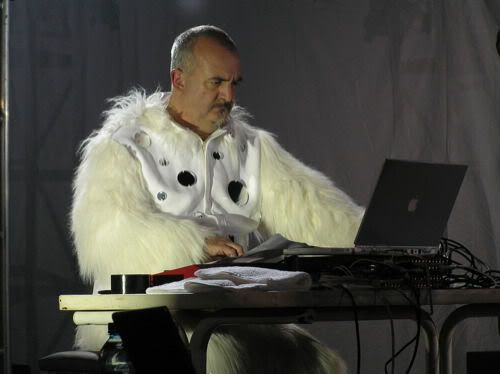 Peter Christopherson
Twitter:http://twitter.com/WhatTheFontaine
Facebook:http://www.facebook.com/pages/Richmond-VA/What-the-Fontaine-on-WRIR-973-FM/273679064155
AIM: WhatTheFontaine Phone: 804.649.9737
Check here later for tonight's podcast.
All podcasts:http://www.radio4all.net/index.php/contributor/3857
Click "Read More" for song list.

Meat Beat Manifesto – United Nations
Fire Faithful – Company Loves Misery [tomorrow at Alley Katz]
Druglord – Misery Feeder [tomorrow at Alley Katz]
Hex Machine – Blueprint to Madness [Sunday at Strange Matter]
Imperial Order – Fire Cage [tomorrow at Strange Matter]
Paul Ivey – Skinless [Monday at The Camel]
Louis Ledford – Lo, How a Rose E'er Blooming [live at WRIR last Saturday!]
Lee Harris and Country Sunshine – Maximum Security Christmas
Splork! – Ding Dong Christmas
Charles Arthur – Trucker's Christmas
The Guess Who – No Sugar Tonight
Southern Culture on the Skids – Venus
Mudhoney – Pump it Up
Medeski Martin and Wood – Bubblehouse
Soul Coughing – Down to This
Boss Hogg – Winn Coma
Jon Spencer Blues Explosion – Chicken Dog
R.I.P. Peter Christopherson:
Throbbing Gristle – Hot on the Heels of Love
Throbbing Gristle – Convincing People
Throbbing Gristle – What a Day
Throbbing Gristle – Still Walking
Throbbing Gristle – Subhuman
Throbbing Gristle – Six Six Sixties
Throbbing Gristle – Hamburger Lady
Psychic TV – Twisted
Coil – The Anal Staircase
Chris and Cosey – Exotika
Einsturzende Neubauten – Fackeln!

Playlist temporarily unavailable.