Activate!

Activate! Spring Fund Drive edition – MAKE YOUR PLEDGE NOW!

Here's what's up. Tonight at 7pm, I'm gonna play a bunch of local (and touring) bands on Activate!, The Atkinsons (pictured) will kick it live in the studio, and we're gonna ask for money. Join us! And if you can help support this Independent Radio thing, please call 622-WRIR, stop by the station, or click "donate" up above.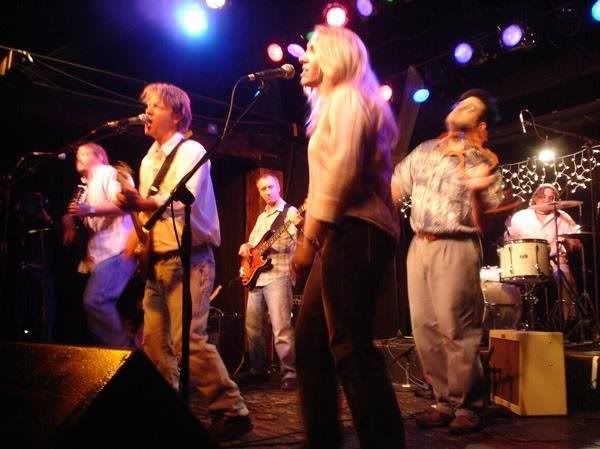 Click on "read more" for the show listings / playlist. Click here for the podcast (tomorrow):
Activate! 5-4-11
Cracker / Hand Me My Inhaler / 429 – Groovin' In the Garden / Lewis Ginter, May 5 (w/ Prabir/Goldrush)
SCUO / Arms / diy – Balliceaux, May 9 @ 10pm (w/ Starlicker)
Larri Branch Agenda / Fictional / diy – CD Release / Bogart's, May 6
Savoy Family Band / Bayou Two-Step / Arhoolie – Benefit for Westview on the James Camp / Trinity United Methodist Church, May 6 @ 6pm (featuring Cajun dance lessons w/ Talia)
Reckless Abandon / Skinquarter Curve / Planetary – Page Wilson Memorial Concert and Benefit for Virginia Blue College Fund / Canal Club, May 8 @ 1pm (w/ Tim, Joe and Scott, The Taters, Darryl Ellyson, Robbin Steele Band, Roger Carroll and Chez Roue, Janet Martin Band, Susan Greenbaum Band, Lil Ronnie and the Grand Dukes, Uncle Drew and the Powhite Boys, Terry Garland and His Small Band)
David Mayfield Parade / I Just Might Pray / 9th Grade – The Camel, May 10 @ 8pm (w/ Ryan Brosmer, Hi I'm Bryce)
The Atkinsons LIVE IN WRIR STUDIOS
Nick Coward & the Last Battle / Funeral / diy – Benefit for WRIR / Firehouse Theater, May 7 @ 7pm (w/ Josh Small, Ophelia, Orioles)
Ophelia / The Butcher / Triple Stamp
Orioles / Whole Green 'Nother / diy
Amazing Ghost / VCU Ram Jam / diy – Benefit for WRIR / Gallery 5, May 8 @ 5pm (w/ The Veins, The Trillions, Sportsbar)
The Veins / Bootsy Billade / diy
Sportsbar / Don't Cry / Sweet Dreams
People's Blues of Richmond / Wanna Be Your Man / diy – Cary Street cafe, May 6 @ 10pm (w/ The Shack Band); The Camel, May 8 @ 9pm (w/ Shane Pruit Band)
Everybody Yay / Listening / diy – Sprout, May 10 (w/ Floating Colors, Tungs, Hear Hums)
Funland Superquest / I'll Make Me / diy – Strange Matter, May 8 @ 6pm (w/ White Laces, Roy G Biv, Teen Dreams)
Sleigh Bells / Crown On the Ground / Mom + Pop – The National, May 6 @ 7:30pm (w/ CSS, Bosco Delray)
CSS / Rat is Dead (Rage) / Sub Pop
Ribs / Even / diy – Strange Matter, May 10 @ 9pm (w/ Ear Theory, Historic, Colleen Applegate)
Lost Tribe / The Laughter / diy – Strange Matter, May 11 @ 9pm (w/ Germ Attack, Violent Party, Black Age)
Germ Attak / Canadian Concentration Camp / diy
Daytrader / Kill My Compass / Run for Cover – The Camel, May 9th @ 6pm (w/ Daylight, Tiger Tail, Seahaven, Turnover)
Tiger Tail / Best Damn Summer / diy
Hold Tight! / My Favorite Songs / Death to False Hope – Rock Garden, May 6 (w/ Just Die!, The Fake Boys, Dirty Tactics)
Make Do and Mend / Insomniac Jams / Panic – The Camel, May 8 @ 3pm (w/ American Ruins, In Courage, Take Charge, Turnover, Living With Lions, Such Gold, Fireworks)
Living With Lions / Whatever You Want / Adeline
Young Widows / In and Out of Lightness / Temporary Residence – Strange Matter, May 5th @ 9pm (w/ My Disco, Lights East)
Acrassicauda / Message From Baghdad / Metal Blade – Strange Matter, May 6 @ 9pm (w/ The Catalyst, Gull)
the Catalyst / Born With a Buzz / Robotic Empire
Deep China / Gun Line / diy – Strange Matter, May 8 @ 10pm (w/ White Walls)
12th Planet / Snack Attack / Smog – Canal Club, May 6 @ 9pm (w/ Smash Gordon, Mike Phear, Thomas Kimsey, JMungz vs. Shuggadaddee)
Julia Nunes / The Same Things / diy – Gallery 5, May 10 @ 8:30pm (w/ Ian Axel)
Playlist temporarily unavailable.