What the Fontaine?!

WTF: Guests Dave Brockie, Don Jamieson, Brian Slagel talk about GWAR-B-Q!

"What the Fontaine?!: You never know what you'll hear next on this fun mix of tunes from across the decades and musical genres."

Tonight's the first night of our semi-annual Fund Drive. It's also the night before the GWAR-B-Q. So I have special guests Dave Brockie (aka Oderus Urungus), along with Don Jamieson from "That Metal Show" & Brian Slagel from Metal Blade Records. I'm sure we'll hear all about the venue change from Hadad's to The National, as well as Don's comedy gig, and all the bands set to play the GWAR-B-Q. Tune in 9-11pmEDT! And pledge to our fund drive!


GWAR-B-Q info here and here and here.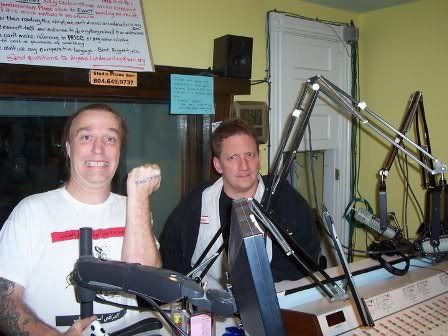 Dave Brockie & Mike Derks at WRIR 4-2-10
Twitter: http://twitter.com/WhatTheFontaine
Facebook: http://www.facebook.com/pages/Richmond-VA/What-the-Fontaine-on-WRIR-973-FM/273679064155
AIM: WhatTheFontaine Phone:804.649.9737
Check here later for tonight's podcast.
All podcasts: http://www.radio4all.net/index.php/contributor/3857

Click "Read More" for song list.

Meat Beat Manifesto – United Nations
Inquisition – Open Letter
acoustic Strike Anywhere – South Central Beach Party (Live at WRIR last Fri)
League of Space Pirates – Search and Destroy
The Trillions – Parallelograms
Gull – Shackle
Hot Little Number – Black Dog
Steroid Maximus – Quilombo!
Beastie Boys – Body Movin'
GWAR – Saddam a Go-Go
White Cross – Pink Flamingos
Kepone – Loud
Mao Tse Helen – I'm So Happy to Be Alive, I Think I'll Sing Myself a Happy Song
RPG – True White Star
Point Blank – Bittersweet Victory
Hex Machine – Blueprint to Madness
Honor Role – Anonymous Cave
Melvins – Sweet Willy Rollbar
Avail – Scuffletown
L7 – Freak Magnet
The Birthday Party – Zoo Music Girl
Iggy Pop – Sixteen
GWAR – Crack in the Egg
Death Piggy – Boner

Playlist temporarily unavailable.