What the Fontaine?!

WTF: Annual Halloween Show

"What the Fontaine?!: You never know what you'll hear next on this fun mix of tunes from across the decades and musical genres."

Put on your Zombie Amy Winehouse costume and listen to some scary music! Blood, monsters, rats, bats, spiders, flies, aliens, and more! Not gonna read Poe's "The Raven" this year, but maybe play an extra Throbbing Gristle song instead. Tune in 9-11pmEDT, and then head to The Camel for WRIR's Monster Mashquerade party!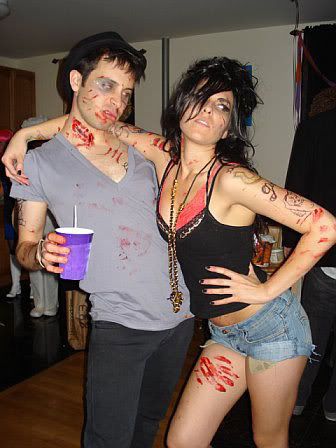 Twitter: http://twitter.com/WhatTheFontaine
Facebook: http://www.facebook.com/pages/Richmond-VA/What-the-Fontaine-on-WRIR-973-FM/273679064155
AIM: WhatTheFontaine Phone:804.649.9737
Check here later for tonight's podcast.
All podcasts: http://www.radio4all.net/index.php/contributor/3857

Click "Read More" for song list.

Meat Beat Manifesto – United Nations
Canary Oh Canary – In the Panelled Basement [tonight @ The Camel]
The Damned – Wait for the Blackout [last Sunday @ Black Cat]
Scratch Acid – Monsters [next Friday @ 9:30 Club]
David Bowie – Scary Monsters (and Super Creeps)
Siouxsie + Banshees – Halloween
Misfits – Halloween
Dead Kennedys – Halloween
Dream Syndicate – Halloween
Alice Donut – Halloween [cover of the DKs song]
Charles Ives – Halloween
The Birthday Party – Release the Bats
GBH – City Baby Attacked by Rats
Art Bears – Rats and Monkeys
Walt Disney's Chilling, Thrilling Sounds of the Haunted House – The Haunted House
The Cramps – Human Fly
Wire – I Am the Fly
Soundgarden – Drawing Flies
Nick Cave – Wings Off Flies
The Who – Boris the Spider
J.S. Bach – Toccata from D-Minor Toccata and Fugue
Throbbing Gristle – Blood on the Floor
Skinny Puppy – Blood on the Wall
That Dog – We Must Bleed [Germs cover]
Mazzy Star – Ghost Highway
The Gun Club – Ghost on the Highway
Pulsallama – The Devil Lives in My Husband's Body
The B-52's – Devil in my Car
The Fleshtones – Screaming Skull
Diamanda Galas – Wild Women with Steak-Knives (Homocidal Love Song for Solo Scream)
Brian Eno & David Byrne – The Jezebel Spirit
Walt Disney's Chilling, Thrilling Sounds of the Haunted House -The Martian Monsters
Daniel Steven Crafts – Snake Oil Symphony, Act II [sci-fi & aliens]
Tom Waits – Frank's Wild Years [arson!]

Playlist temporarily unavailable.