River City Limits

RCL: Fontaine plus special guests KEPONE playing LIVE!!!

Fontaine here this Saturday 5-7pmEDT to bring you a special Fund Drive edition of River City Limits. Lotsa local band music, and (ta-da!) KEPONE is gonna play LIVE about 6pm!!! So excited!

Phil D is gonna help me talk about all the cool stuff you'll get when you donate to WRIR, including a shot at either a $100 Brookland Park Tattoo gift certificate or several local band records from Worthless Junk Records (if you're the 1st or 2nd donor at the $100 level). Phone
804.622.9747, come by 1621-B W Broad St. (dinner from Joe's Inn), or visit http://www.wrir.org/index.php?/station/sept-2012-fund-drive/ And thanks for your continued support of WRIR! (UPDATE: The Tattoo gift certificate has already been claimed, but there's a special "Night on the Town" gift certificate from Omni Richmond Hotel at the $200 donation level. Also at the $100 level, you win a pair of tix to see Ms. Proper Oct.6th at Kingdom.)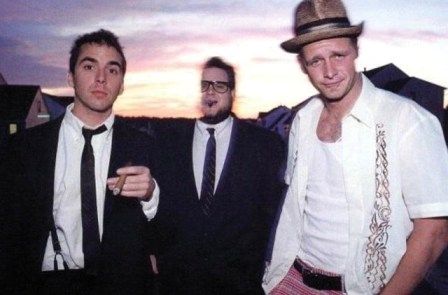 Kepone Check out this article on them from April.
Twitter: http://twitter.com/WhatTheFontaine
Facebook: http://www.facebook.com/pages/Richmond-VA/What-the-Fontaine-on-WRIR-973-FM/273679064155
AIM: WhatTheFontaine Phone:804.622.9747
Check here later for tonight's podcast.
All podcasts: http://www.radio4all.net/index.php/contributor/3857

Click "Read More" for song list.

Ululating Mummies – Fields of Ice
Cristal – Bels
RPG – Insult and Allure
King Sour – Palookaville
Death Piggy – Bathtub in Space
Ms Proper- What Do You Do
Sau – Rock and Roll Paradise
Canary Oh Canary – Dirty South
Meat Cleaver – Thirty-Seven
GWAR – Cool Place to Park
Lamb of God – Number Six
Burma Jam – New Ground Dub
KEPONE live!!!
Loud
Dickie Boys
Silly Sally
Henry
Leadbreath
Super Lover
talk w/ Kepone
Smalltown Superstar – September 2
Hoi Polloi -?
Heks Orkest – Endless Scroll For Player Piano
Butterglove – Sleep Thirsty

Playlist temporarily unavailable.