Songs From The Big Hair

Songs From the Big Hair: Fontaine Plays Lotsa 80s Punk

Okay I'm gonna tell ya right up front, I'll be playing some 70s songs today, but they'll all have that punky sound, I promise. Plus of course lotsa 80s punk, and a few other things. Last week I got to see (and briefly hang out with) Sylvain Sylvain of the New York Dolls and Glen Matlock of The Sex Pistols. I wanted to post Syl's autographed setlist or Dolls LP, but the scanner up here isn't working (wah, wah). How about a photo of him from the internet instead? Oh yeah, tune in 3-5pmEDT today to hear all the music!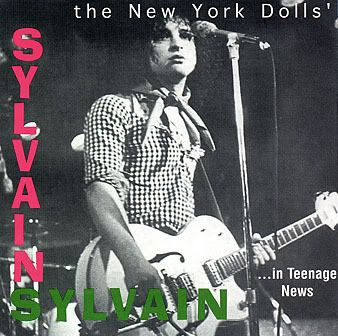 Twitter: http://twitter.com/WhatTheFontaine
Facebook: http://www.facebook.com/pages/Richmond-VA/What-the-Fontaine-on-WRIR-973-FM/273679064155
AIM: WhatTheFontaine Phone: 804.649.9737
Check here later for tonight's podcast.
All podcasts: http://www.radio4all.net/index.php/contributor/3857

Click "Read More" for song list.

English Beat – Get a Job / Stand Down Margaret (for the late Margaret Thatcher)
Tupelo Chain Sex – America Today
The Flying Lizards – Money (for income tax day on Monday!)
Killing Joke – Tension (35th Anniv tour hits Philly April 21st)
The Fall – Totally Wired
The Birthday Party – Sonny's Burning
Gang of Four – To Hell With Poverty
Chrome – Anorexic Sacrifice
DOA – War
more covers:
Big Black – The Model
The Dickies – Nights in White Satin
Crazy Backwards Alphabet – La Grange (sung in Russian!)
Agitpop – Funkytown
Dead Kennedys – Rawhide
New York Dolls – Chatterbox
Sex Pistols – Anarchy in the UK (1976 version w/ Glen Matlock)
The Heartbreakers – Chinese Rocks
Sex Pistols – Pretty Vacant
No Trend – Freak
Lubricated Goat – Bullock
Plasmatics – Fast Food Service
The Pop Group – Rob a Bank
Black Flag – I Love You
Negativland – Theme From a Big 10-8 Place
The Clash – This is Radio Clash (request)
9353 – Famous Last Words
Essential Logic – Quality Crayon Wax OK
The Contortions – Dish it Out
Part-Time Christians – Orthopedic Bowling Shoes / Gutterball
Iggy Pop – Bang Bang

Playlist temporarily unavailable.