What the Fontaine?!

WTF: Hey It's Dave Brockie's Birthday

"What the Fontaine?!: You never know what you'll hear next on this fun mix of tunes from across the decades and musical genres."

Today just happens to be Dave Brockie's birthday. He truly has been my most frequent on-air guest over the years, both at WRIR and WDCE. We've had many conversations about GWAR, GWAR-B-Q, the Richmond music scene, etc, etc. So here's to you my friend! I'll play a classic Death Piggy song (Dave on vocals and bass), talk about a few upcoming shows, and play lots of music. Tune in 9-11pmEDT.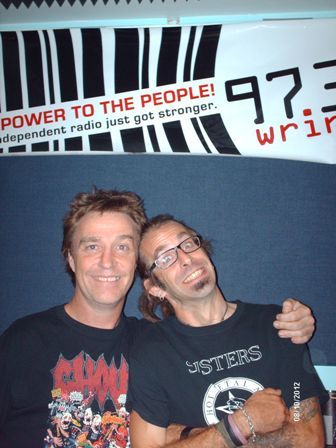 Dave Brockie and Randy Blythe at WRIR 8-10-12
Twitter: http://twitter.com/WhatTheFontaine
Facebook: http://www.facebook.com/pages/Richmond-VA/What-the-Fontaine-on-WRIR-973-FM/273679064155
AIM: WhatTheFontaine Phone: 804.649.9737
Check here later for tonight's podcast.
All podcasts: http://www.radio4all.net/index.php/contributor/3857

Click "Read More" for song list.

Meat Beat Manifesto – United Nations
Iggy Pop – Shakin' All Over
Iggy Pop – Neon Forest
Beck – Bottle of Blues
Death Piggy – No Prob Dude [happy birthday Dave Brockie!]
Iron Reagan – Running Out of Time [next Sat @ Todd Wittemann benefit]
Weedeater – Mancoon
Bongwater – Obscene and Pornographic Art
Beastie Boys – Unite
Atari Teenage Riot – Atari Teenage Riot
Pop Will Eat Itself – Def Con One [request]
Pere Ubu – Final Solution [request]
Devo – Mongoloid
Stan Getz & Joao Gilberto w/ Antonio Carlos Jobim – The Girl From Ipanema
The Cure – Primary
LCD Soundsystem – Drunk Girls
Fatboy Slim – Always Read the Label
Gipsy Kings – Bamboleo
DJ Shadow – The Number Song
Gary Clail / On-U Sound System – Escape
PJ Harvey – Rub 'Til It Bleeds
Sisters of Mercy – Lucretia My Reflection
Gorillaz – M1A1
Siouxsie + Banshees – Christine
Echo + Bunnymen – Bedbugs and Ballyhoo
The Dream Syndicate – Then She Remembers
Joy Division – Heart and Soul

Playlist temporarily unavailable.