SIFTER for the Ear presents: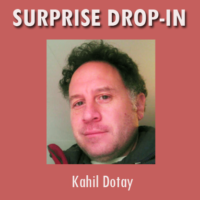 BK Fulton is Founding Chairman and CEO of Souldifly Productions right here in Richmond. The company specializes in uplifting stories for film, stage and books. Bk talks about:
– What famous actor he's named after
– Transitioning  from Verizon to producing
– Upcoming THE KILL ROOM with Uma Thurman & Samuel L. Jackson
– Tony-nominated revival of THE PIANO LESSON
– National tour of THE WIZ
– A new musical about August Wilson that he co-wrote
LINKS:
Soulidifly Productions
Freedom's Path (opens nationwide 9/8)
The Wiz (starts national tour in Baltimore 9/23)
The Richmond.com article about Richmonder Nichelle Lewis (playing Dorothy in The Wiz)
The Kill Room (opens nationwide 9/28)
Come with Me (song from From August with Love)
VPM's YouTube Channel (The Music Scene
Email Mason Mills for details [email protected].
Show Archive
Play show
/
Add show to playlist
Playlist:
Playlist temporarily unavailable.
Jerry Williams SIFTER for the Ear September 1st, 2023