What the Fontaine?!

WTF: Randy Wyszpolski Five Year Anniversary

"What the Fontaine?!: You never know what you'll hear next on this fun mix of tunes from across the decades and musical genres."

My good friend Randy Wyszpolski died from an aneurysm five years ago today. He was a great music lover (and mischief maker) who I went to numerous shows with. My last conversation with him was about his song requests for my radio show that night. So tonight I'll play a whole show dedicated to him! Tune in 9-11pm.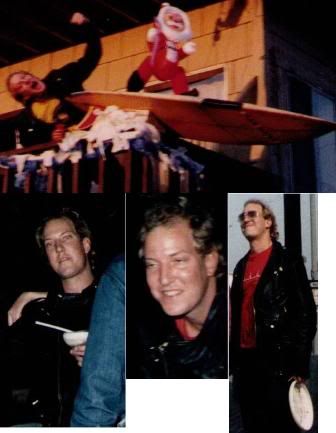 Twitter:http://twitter.com/WhatTheFontaine
Facebook:http://www.facebook.com/pages/Richmond-VA/What-the-Fontaine-on-WRIR-973-FM/273679064155
AIM: WhatTheFontaine Phone: 804.649.9737
Click here for today's podcast.
All podcasts:http://www.radio4all.net/index.php/contributor/3857
Click "Read More" for song list.

Meat Beat Manifesto – United Nations
White Cross – Pink Flamingos
Mudd Helmut – 12 Oz (Closer to God)
Dead Kennedys – Holiday in Cambodia
Pylon – Feast on my Heart
Romeo Void – Never Say Never
U2 – I Will Follow
Missing Persons – Destination Unknown
Fleshtones – Cold, Cold Shoes
The Blasters – I'm Shakin'
The Cure – Killing an Arab
Siouxsie + Banshees – Monitor
Black Flag – T.V. Party
Agent Orange – Everything Turns Gray
X – Los Angeles
Bad Brains – Sailin' On
Mojo Nixon – Stuffin' Martha's Muffin
Iggy Pop – Lust for Life
The Cramps – Can Your Pussy Do the Dog?
Divine – Born to be Cheap
Minor Threat – Cashing In
Joan Jett – Bad Reputation
Angry Samoans – Lights Out
Type O Negative – Unsuccessfully Coping with the Natural Beauty of Infidelity (aka I Know You're BLEEP'ing Someone Else)
Hawkwind – Motorhead
Parliament – Give Up the Funk (Tear the Roof Off the Sucker)
Trouble Funk – Pump Me Up
Talking Heads – Psycho Killer

Playlist temporarily unavailable.