Songs From The Big Hair

Songs From the Big Hair: Fontaine Playing American 80s Tunes

It's Fourth of July weekend, so I'll try to stay all-American on this edition of the 80s Show. Tune in 3-5pmEDT for all the fun.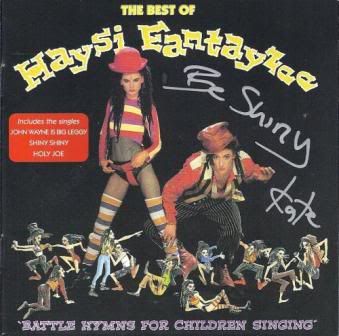 Haysi Fantayzee (not American)
Twitter:http://twitter.com/WhatTheFontaine
Facebook:http://www.facebook.com/pages/Richmond-VA/What-the-Fontaine-on-WRIR-973-FM/273679064155
AIM: WhatTheFontaine Phone: 804.649.9737
Check here later for tonight's podcast.
All podcasts:http://www.radio4all.net/index.php/contributor/3857
Click "Read More" for song list.

The Blasters – American Music
X – Fourth of July
Meat Puppets – Lake of Fire
Devo – Beautiful World
Suicide – Ghost Rider
The Cramps – The Crusher
The Fleshtones – The Girl From Baltimore
Mission of Burma – Outlaw
Black Flag – Jealous Again
Pylon – Feast on my Heart
Big Black – Jordan Minnesota
Pretenders – Message of Love
Minutemen – The Glory of Man
Fugazi – Waiting Room
Camper Van Beethoven – Joe Stalin's Cadillac
Butthole Surfers – Moving to Florida
Beastie Boys – Hey Ladies
Liquid Liquid – Optimo
Public Enemy – Don't Believe the Hype
The Dickies – Nights in White Satin
Angry Samoans – My Old Man's a Fatso
Dead Boys – Sonic Reducer
Misfits – T.V. Casualty
Sonic Youth – My Friend Goo
L7 -Shove
The Slickee Boys – Gotta Tell Me Why [playing tomorrow at 9:30 Club]
Joan Jett – Bad Reputation
The Gun Club – She's Like Heroin to Me
Scratch Acid – She Said
GWAR – The Horror of Yig
Ministry – Stigmata
Ramones – Psycho Therapy
Violent Femmes – Gone Daddy Gone
Ween – Never Squeal
De La Soul – Tread Water
Talking Heads – Memories Can't Wait

Playlist temporarily unavailable.