What the Fontaine?!

WTF: More Punk and Post-Punk

"What the Fontaine?!: You never know what you'll hear next on this fun mix of tunes from across the decades and musical genres."

Last night I ended up hosting Dan's Salad Days punk show…lots of fun! (Setlist here.) But I didn't get to play everything I brought, so why not continue the party tonight? Tune in 9-11pm tonight for music from Fugazi, Jello Biafra, Wire, Gang of Four, Butthole Surfers, Half Japanese, Art Bears, plus probably some bonus tracks from Black Flag, Bad Brains, etc.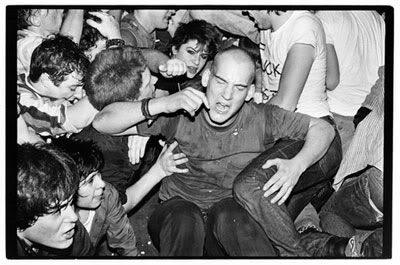 Twitter:http://twitter.com/WhatTheFontaine
Facebook:http://www.facebook.com/pages/Richmond-VA/What-the-Fontaine-on-WRIR-973-FM/273679064155
AIM: WhatTheFontaine Phone: 804.649.9737
Click here for today's podcast.
All podcasts:http://www.radio4all.net/index.php/contributor/3857
Click "Read More" for song list.
Meat Beat Manifesto – United Nations
Jello Biafra & the Guantanamo School of Medicine – Pets Eat Their Master
(Listen to my recent Jello interview here…also includes GWAR's Brockie/Derks.)
Gang of Four – Damaged Goods
Siouxsie + Banshees – Carcass
Angry Samoans – My Old Man's a Fatso
Butthole Surfers – Lady Sniff
The Cramps – Garbage Man
Joan Jett/Runaways – Cherry Bomb
Fugazi – Waiting Room
Wire – Strange
Public Image Ltd – Public Image
The Clash – The Guns of Brixton
The Barriers – Stagnate [RVA band]
L'Amour – Sunglass Party [RVA band] [request]
Graven Image – Dear Abby [RVA band] [request]
Beex – Black Boots [RVA band] [request]
White Cross – Didn't See It Coming [RVA band] [request]
Death Piggy – Bathtub in Space [RVA band] [request]
Motorhead – Ace of Spades
Bad Brains – Intro / I Against I
Microjoy – Party Patrol [RVA band] [request]
Black Flag – Six Pack
Half Japanese – Too Bad About Elizabeth
Devo – What We Do [playing The National July 30th] [new!]
Pere Ubu – Street Waves
Tuxedomoon – 59 to 1
Executive Slacks – 30 Years
Suicide – Ghost Rider
Art Bears – Rats and Monkeys
Ween – Wayne's Pet Youngin'
The Table – Do the Standing Still
Bauhaus – Telegram Sam
Cabaret Voltaire – Product Patrol
Swell Maps – Midget Submarines
The Residents – Santa Dog '78
The Birthday Party – The Hair Shirt

Playlist temporarily unavailable.