What the Fontaine?!

WTF: Wax Trax Records & Related Bands

"What the Fontaine?!: You never know what you'll hear next on this fun mix of tunes from across the decades and musical genres."

Once again Sound Opinions did a great show today, focusing on the music of Chicago's Wax Trax Records and guests Paul Barker & Chris Connelly. I thought I'd play a bunch of that music tonight: Ministry, Revolting Cocks, KMFDM, Meat Beat Manifesto, Front 242, Pailhead, Lard, My Life with the Thrill Kill Kult, Fini Tribe, 1000 Homo DJs, Pigface, etc. Tune in 9-11pmEDT!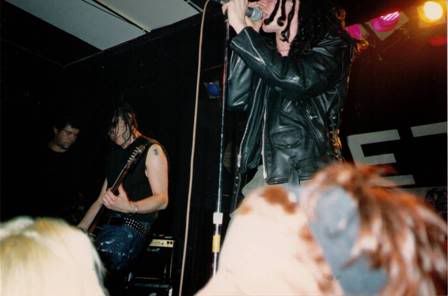 William Tucker & Chris Connelly of Pigface at The Metro 12-8-91
Twitter:http://twitter.com/WhatTheFontaine
Facebook:http://www.facebook.com/pages/Richmond-VA/What-the-Fontaine-on-WRIR-973-FM/273679064155
AIM: WhatTheFontaine Phone: 804.649.9737
Check here later for tonight's podcast.
All podcasts:http://www.radio4all.net/index.php/contributor/3857
Click "Read More" for song list.

Meat Beat Manifesto – United Nations
Slickee Boys show theme set:
Alice Cooper – Eighteen
Minor Threat – Steppin' Stone
Slickee Boys – Invisible People
Wax Trax theme starts here:
Divine – Born to be Cheap
Revolting Cocks – Attack Ships on Fire (12" version)
My Life with the Thrill Kill Kult – And This is What the Devil Does
Ministry – Stigmata
Pailhead – No Bunny
KMFDM – Virus
Lard – Forkboy
Meat Beat Manifesto – Strap Down, part one
Pigface – Tonight's the Night (Little Sisters remix)
Front 242 – Don't Crash
1000 Homo DJs – Supernaut
Pailhead – I Will Refuse
KMFDM – Mercy
Revolting Cocks – Stainless Steel Providers
My Life with the Thrill Kill Kult – Sex on Wheelz
GWAR – Horror of Yig [song produced by Al Jourgensen & Paul Barker]
Pigface – Steamroller (Steaming Pig Mix) (w/ Skatenigs)
Fini Tribe – Make it Internal (Here We Go Round the Mulberry Mix) (part)

Playlist temporarily unavailable.