What the Fontaine?!

WTF: Special Guests Dead Fame

"What the Fontaine?!: You never know what you'll hear next on this fun mix of tunes from across the decades and musical genres."

In the first hour I'll be trying out the turntables with lots of post-punk and related vinyl. In the second hour the members of local band Dead Fame will be my guests. We'll play some of their music and music they like, in anticipation of their gig tomorrow night at Gallery 5. Tune in 9-11pmEST!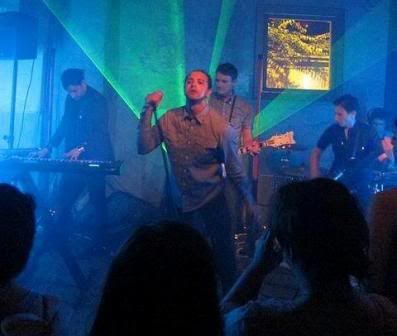 Dead Fame (photo by Kelsey Thayer)
Twitter: http://twitter.com/WhatTheFontaine
Facebook: http://www.facebook.com/pages/Richmond-VA/What-the-Fontaine-on-WRIR-973-FM/273679064155
AIM: WhatTheFontaine Phone:804.649.9737
Check here later for tonight's podcast.
All podcasts: http://www.radio4all.net/index.php/contributor/3857

Click "Read More" for song list.

Meat Beat Manifesto – United Nations
The Nervous Ticks – Kill for Satan [tonight at a house show]
Canary Oh Canary – In the Panelled Basement [tonight at The Camel]
The Slomski Brothers – …even though… [Phil Pollard Memorial Concert Sat. @ Neighborhood Resource Ctr.]
Bauhaus – Telegram Sam [T. Rex cover]
Siouxsie + Banshees – Spellbound
The Slits – I Heard it Through the Grapevine [Marvin Gaye]
Gang of Four – Producer
The Fall – Copped It
Wire – Strange
Monochrome Set – Eine Symphonie Des Grauens
Talking Heads – Cities
The Stick Men – Funky Hayride
Icehouse – We Can Get Together
Gary Numan – Metal
Tom Jones – Situation [Yaz cover]
talk w/ Dead Fame
Dead Fame – We Can Run [tomorrow at Gallery 5]
Stereolab – Diagonals
Dance for the Dying – El Monstro [tomorrow at Gallery 5]
T. Rex – Debora
Dead Fame – Turning [tomorrow at Gallery 5]
White Rose Movement – London's Mine
Siouxsie + Banshees – Head Cut
Simple Minds – Changeling
Echo + The Bunnymen – With a Hip
Xiu Xiu – Muppet Face
White Lies – Place to Hide

Playlist temporarily unavailable.