What the Fontaine?!

WTF: Etch a Sketch Week

"What the Fontaine?!: You never know what you'll hear next on this fun mix of tunes from across the decades and musical genres."

Can you believe that Mitt Romney spokesman's Etch a Sketch comment? Check a funny version here. And listen in tonight 9-11pmEDT as I play a variety of music, guest-free this week. Tomorrow 5-7pm I come back to host the local band show (River City Limits) with musical guest Matt Conner of RPG. (Oh, and big thanks to DJ Whiskey for subbing WTF last week!)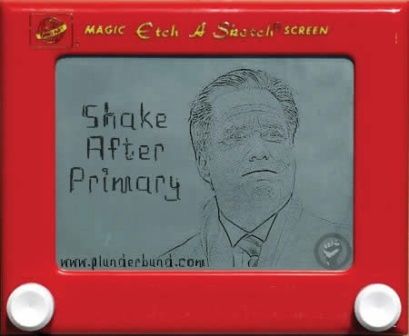 Twitter: http://twitter.com/WhatTheFontaine
Facebook: http://www.facebook.com/pages/Richmond-VA/What-the-Fontaine-on-WRIR-973-FM/273679064155
AIM: WhatTheFontaine Phone:804.649.9737
Check here later for tonight's podcast.
All podcasts: http://www.radio4all.net/index.php/contributor/3857

Click "Read More" for song list.

Meat Beat Manifesto – United Nations
Gnawed – Ruination [Sunday @ Strange Matter]
Canary Oh Canary – Dirty South [Sunday @ Banditos]
GWAR – Crack in the Egg [last Friday @ National]
Hawkwind – Motorhead
Scraping Foetus Off the Wheel – Descent Into the Inferno
Damon Edge (of Chrome) – I'm a Gentleman
Radio Shock – Tapper Creeper [last Sat @ Strange Matter]
Siouxsie + Banshees – Christine
Iggy Pop – Nightclubbing
The Fall – Hey Luciani
Hanzel und Gretyl – Transplutonian Annihilation
Fugazi – Waiting Room
Wire – 1, 2 X U
Misfits – T.V. Casualty
X – Blue Spark
Gang of Four – Not Great Men
The Cramps – The Crusher
Cop Shoot Cop – It Only Hurts When I Breathe
The Birthday Party – The Hair Shirt
Mission of Burma – This is Not a Photograph
Pere Ubu – Lonesome Cowboy Dave
The Fall – Cowboy George
Butthole Surfers – Cherub
Flour – Candyland
Tom Waits – Down, Down, Down
Minutemen – The Glory Of Man
Devo – Gut Feeling
The Clash – Clash City Rockers
The Rats – Norfolk City Rockers
Joan Jett – Bad Reputation

Playlist temporarily unavailable.