Tuesday Morning Breakfast Blend

Afrocentric February!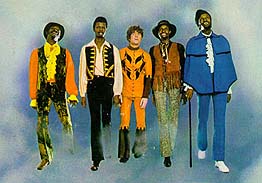 The great Chambers Brothers
Medley: Louie, Louie – Ode To Billy Joe/ Africa/ Music From "Lil Brown" 1968
It's Your Thing/ Isley Brothers/ The Ultimate Isley Brothers 2000
Question/ Howard Tate/ Reaction 2003
Go Tell It on the Mountain/ Barbara Dane and the Chambers Brothers/ Barbara Dane and the Chambers Brothers 1966
Wake Up/ Chambers Brothers/ Time Has Come: The Best Of The Chambers Brothers 1996
We're Rolling On (Part One)/ Curtis Mayfield and the Impressions/ The Complete A & B Sides 1961 – 1968
Mystery Train/ Little Junior/ Elvis 1953 El Origen – Vol. 1
Behind The 8-Ball/ Lee Dorsey/ Funky As I Can Be!
Love Train AND Time to Get Down/ The O'Jays/ Love Train: The Sound of Philadelphia
Mr. Lucky/ Betty Wright/ Eccentric Soul: The Outskirts Of Deep City 1967
Huckleberry Bush (Hully Hully Gully)/ Bo Diddley/ Ride On / The Chess Masters 1960-1961
Morning, Noon And Night/ Gladys Knight & The Pips/ 29 Original '60s Soul Masters 2008
Rough Lover/ Aretha Franklin/ The Electrifying Aretha Franklin
Marvelettes/ I'll Keep Holding On/ single
Three Little Pigs/ Lloyd Price/ Lloyd Price Greatest Hits: The Original ABC-Paramount Record 1994
Hide And Seek/ Astro-Jets/ 50s Doo Wop For Kids
Blues In The Night/ Big Joe Turner/ Greatest Hits 1958
Twistin Train/ Titus Turner/ A Walk on the Wild Side 2012
Funky Street/ Arthur Conley/ Rhino Hi-Five: Arthur Conley 2005
Somebody in the World for You/ The Mighty Hannibal/ What it Is!: Funky Soul and Rare Grooves
Stanga/ Little Sister/ "
Ridin' Thumb/ King Curtis/ What It Is! Funky Soul and Rare Grooves
They Hate Us in Scandinavia/ The Dirtbombs/ If You Don't Already Have A Look
Get Yo Sh*/ The Honeybears/ Tell 'Em What Your Name Is! 2009
Slim's Boogie and Cement Mixer/ Slim Gaillard
Dry Bones Twist/ The Drivers/ R&B Hipshakers Vol. 3: Just A Little Bit Of The Jumpin' Bean
Hey-Hey-Hey-Hey/ Little Richard/ Heavy Sugar: The Pure Essence Of New Orleans R&B
Sookie Sookie/ Don Covay What It Is! Funky Soul And Rare Grooves [1967-1977]
Harem Girl/ Red Prysock/ R&B Hipshakers Vol. 3: Just A Little Bit Of The Jumpin' Bean 1962
Love Pill/ The Rivingtons / The Libery Years
Hittin' on Nothin'/ Irma Thomas
The Jumpin' Bean/ The Mystics/ R&B Hipshakers Vol. 3: Just A Little Bit Of The Jumpin' Bean 1963
Dr. Kaplan's Office/ Bob B. Soxx And The Blue Jeans/ Zip A Dee Doo Dah
Girls Grow Up Faster Than Boys/ The Cookies/ The Dimension Dolls
Ike & Tina Turner/ You Can't Miss Nothing That You Never Had/ single
Playlist temporarily unavailable.