It seems that it's now been a whole year since I was allowed to fumble in the studio with some old records, and its been an absolute blast!
Tonight we're covering a different genre of American music for each month of the of the year!
Well we've made it this far folks, might as well keep going now..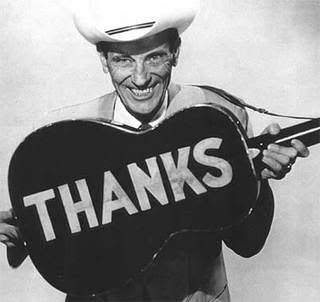 | Artist | Song | Album | Record Label | Year/Comments |
| --- | --- | --- | --- | --- |
| Stripling Brothers | Lost Child | | | |
| East Texas Serenaders | Mineola Rag | | | |
| Field Ward & The Grayson County Railsplitters | Ain't That Trouble in Mind | | | |
| The Prairie Ramblers | Lefty's Breakdown | | | |
| Nite owls | It's A Lonesome Old town | | | |
| Milton Brownies & His Brownies | Washington & Lee Swing | | | |
| Lew Preston & his Men of the Range | Troubled Mind | | | |
| Moses | The Old Chisholm Trail | | | |
| Edward L. Crain | The Old Chisholm Trail | | | |
| Ramblin' Jack Elliott | Night Herding Song | | | |
| Woody Guthrie | Cowboy Waltz | | | |
| Joseph Falcon & Cleoma Breaux | Allons A Lafayette | | | |
| Amede Ardoin | Amede Two Step | | | |
| D.L. Menard, Dewey Balfa & Marc Savoy | Jolie Blonde Du Bayou | | | |
| Blind Blake | Seaboard Bound | | | |
| Jelly Roll Morton | King Porter Stomp | | | |
| Henry Allen Jr. Orchestra | Sugar Hill Function | | | |
| The Missourians | I've Got Someone | | | |
| Bobber Milly | Lost My Gal in Memphis | | | |
| Birmingham Jug Band | Giving it Away | | | |
| John Harris | Glad & Sorry Blues | | | |
| Cannon's Jug Stompers | Viola Lee Blues | | | |
| Charley Patton | Screamin' & Hollerin' the Blues | | | |
| Skip James | Devil Got My Woman | | | |
| Willie Brown | Future Blues | | | |
| Blind Boy Fuller | I'm a Stranger Here | | | |
| Blind Willie McTell | Broke Down Engine | | | |
| Big Bill Broonzy | Willie Mae | | | |
Playlist archive for Zak Vincent: